Last June, a conference was held on the subject of treatments and clinical trials for children diagnosed with cancer. This was the first conference on this subject in Israel, organized by Larger Than Life in cooperation with the Rambam Pediatric Hospital. Leading this conference was the Director of the Hemato-Oncology Department of Rambam Hospital, Professor Miriam Ben Harush.
Members of the conference included 70 doctors, specialists, nurses, and researchers from different medical centers throughout Israel.
"The goal is to decrease the use of chemotherapy treatments which, aside from damaging and killing cancer cells in the body, also damage the body's healthy cells and cause painful side effects, and to replace these treatments with new drugs that target only the cancer cells and are tailored specifically to each individual child in order to reduce side effects," states Professor Ben Harush.
"Unfortunately, it takes years to determine the efficacy of a new experimental drug, which means we have to be patient. However, on the bright side, children entering the clinical trials conducted through the European Union will receive these experimental drugs free of charge, whereas in the past the burden of financing these drugs was left to the parents of the children."
Participants of the conference were briefed on new experimental drugs by the heads of the organizations of clinical trials in Europe and the United States. They had the opportunity to consult, exchange opinions, and discuss cases of patients that they were debating different treatments for with the heads of these organizations and other participants.
Conferences like this one help maintain the quality of medical care for children diagnosed with cancer in Israel, and to preserve the connection between Israeli medical teams and major medical centers around the world. Participants of the conference summarized their experiences in one word: "Amazing."
After the conference, some of the participants paid a visit to Larger Than Life children's educational center, Kindergarten of Dreams. They sat on the tiny chairs and experienced the most unique project of the organization – the only preschool in the world for children diagnosed with cancer.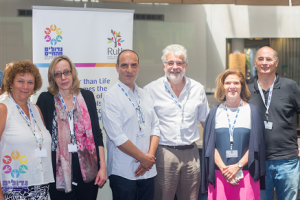 In the image above, from right to left, Professor Rechvi, Professor Ben-Harush, Dr. Morland, Mr. Lior Shimoni, Dr. Vidman/Widman, and Ms. Geula (Gooli) Keshet.
 To view photos from the conference, Click Here
To view speakers presentations: